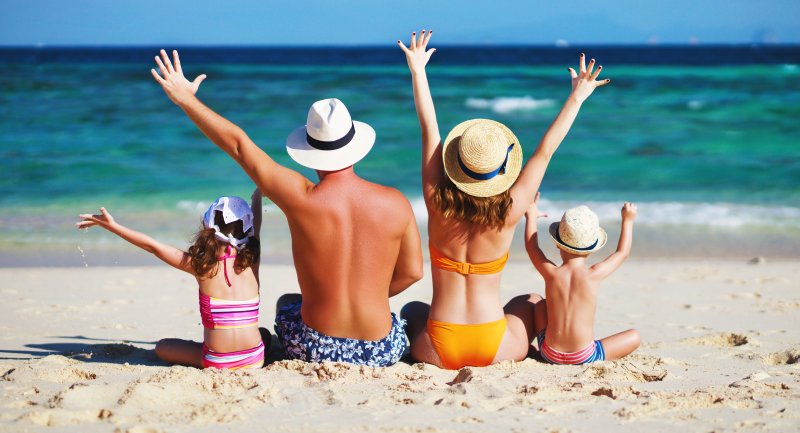 Now that school's out and the weather is getting warmer, you and your family may be preparing for a dream vacation. Whether planning a weekend getaway or an overseas excursion, don't forget to prioritize your oral health amidst the fun. Here are a few ways you can prevent dental emergencies from ruining your summer vacation.
Pack an Oral Hygiene Travel Kit
While away from home, it can be challenging to stay on track with your dental care routine. You might forget to brush and floss on a busy day or simply skip it because you "don't have enough time". However, keeping up with your oral hygiene is critical to prevent decay, cavities, and even gum disease. Maintain a healthy mouth during your travels by packing a kit with travel-sized essentials, such as a toothbrush, fluoride toothpaste, and floss.
Brush and Floss During Pit Stops
Whether you arrive at an airport for a layover, fuel up your car, or pull over at a rest stop, take advantage of these breaks and use them to brush and floss your teeth. If you have a hectic schedule, these are the perfect (maybe even only!) opportunities to care for your teeth. This rule is especially useful for young children who still need reminders to practice proper dental care.
Stay Hydrated
During summer vacation, we may treat ourselves to more sweet treats than usual. Unfortunately, overconsumption of sugary and acidic drinks can damage your enamel and cause tooth decay. But you don't have to forego these beverages completely! Simply limit your consumption and increase your water intake. Drinking plenty of water helps wash away harmful bacteria from your mouth, neutralize acid, and stimulate healthy saliva production. If you decide to indulge in a sweet beverage, drink water immediately afterward to keep your mouth healthy!
Stock Up on Healthy Snacks
It's hard to limit snacking during a long flight or car ride when there's not much else to do. Before leaving for vacation, stock up on tooth-friendly foods the entire family can enjoy! Carrots, celery, apples, pears, plain yogurt, nuts, and cheese are nutritious snacks that will keep your mouth and body happy. Plus, they're easy to grab while on the go!
Prepare a Dental Emergency Kit
You can take every safety precaution in the world, and an accident may still occur. Be prepared to handle the unexpected by packing a dental emergency kit that includes:
Your dentist's emergency and office phone number
Gauze
A clean handkerchief
A sealable container
Saline solution
Don't let a dental emergency put a wrench in your summer plans. By following these tips, you and your family can maintain a beautiful, healthy smile all season long!
About the Author
Dr. Anil Patel earned his Doctor of Dental Surgery at the University of Southern California School of Dentistry in Los Angeles. He enjoys making a positive impact on the lives of all his patients at Studio Dental of Chisholm Trail. If you are experiencing a dental emergency, Dr. Patel can create a treatment plan for you right away to help you get out of pain. Visit our website or call (817) 717-6788 to schedule an appointment.