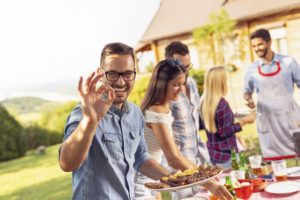 If you've finally invested in dental implants, you've made a great decision! By replacing both the roots and crowns, you'll enjoy a nearly perfect replica of your real teeth, which means you can enjoy your favorite summer foods again. Although you'll be able to have steak and other seasonal favorites, there are a few you should avoid. Here are 5 foods to leave off your plate, so you don't compromise your new smile.
1. Hot Dogs
Children and adults alike anticipate juicy grilled hotdogs. Although they may taste great, they contain processed saturated fat that can irritate the gum tissue. Besides causing inflammation, it can also lead to gum disease, which is a common cause of dental implant failure. If you can't resist hotdogs, it's best to consume them in moderation to preserve your dental implants.
2. Corn on the Cob
You'll regain up to 70% of your natural biting force, so you can eat just about anything, including corn on the cob. Although it's a warm-weather staple for many dinner tables, the kernels can get stuck between your implants and gums. You won't need to remove it from the menu if you cut the corn off the cob.
3. Sugary Drinks
A glass of lemonade or soda is refreshing on a hot day, but they are damaging to your natural teeth and dental implants. Juices, sodas, and sports drinks have high sugar content, which can eat away at your enamel and implants. Besides beverages, many sauces used for steaks and burgers also contain plenty of sugar. Your implant dentist recommends drinking water whenever possible, especially after having any sauces. Not only will you stay hydrated, but you'll also cleanse your mouth of harmful bacteria in between brushing and flossing.
4. Chewy Meats
Grilled meats, like steak, are filling after a long day relaxing by the pool; however, they require a lot of chewing. Although you'll be able to eat them, they can cause excessive wear and tear on your dental implants. Cut chewy meats into smaller pieces to make them easier to chew. You can also choose slow-cooked or ground meats as an alternative.
5. Sticky Foods
Your dental implants will be anchored to your jawbone, so you don't need to worry about them falling out, but you should still avoid sticky foods. They can get stuck in hard-to-reach places, like between your implants or around the gum line. It can be very difficult to remove their residue, so it's better to just skip them altogether.
You can enjoy every minute of summer with dental implants. Thanks to your new smile, you don't have to miss out on your favorite treats and meals.
About Dr. Anil Patel
Dr. Patel earned his dental degree at the University of Southern California School of Dentistry and his Master's in Public Health. He continued his training in dental implantology to become a proud member of the International Dental Implant Association. If you're ready to treat your tooth loss, contact our office today to schedule your consultation with a qualified dentist.