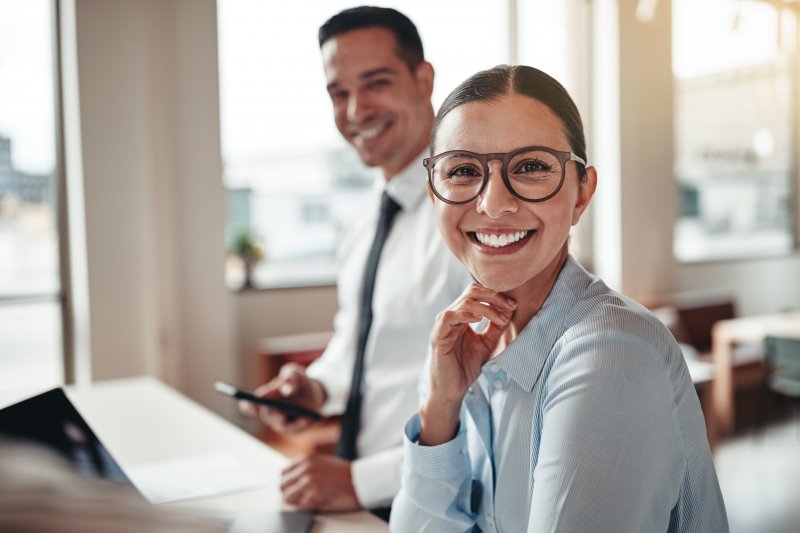 Whether you are looking to start a new job or are trying to boost yourself up at your current place of employment, you are striving to climb the ladder when it comes to your career. While you already have the necessary skills and experience that make you good at what you do, it's no secret that appearance still matters in the workplace. Having a stunning smile can have a positive impact, so you should use this to your advantage! Read on to learn more about how cosmetic dentistry can help you have more success in your career.
Having a Beautiful Smile Can Increase Confidence
Did you know that when you smile, you can reduce your levels of anxiety? Even if you are nervous about an upcoming interview or presentation, putting on a smiling face can make you appear like you are feeling more confident and approachable. By feeling great about the appearance of your teeth, you can prevent yourself from feeling self-conscious while you're in the presence of others.
A Uniform Smile Demonstrates Strong Work Ethic
When your teeth appear to be aligned, free of stains, and uniform, this demonstrates that you are committed to taking care of yourself. If you can be responsible for your presentability, you have the potential to do this when it comes to your responsibilities at work. Gorgeous teeth also suggest other positive attributes, like health, intelligence, and success.
A Good-Looking Smile Makes You More Approachable
If you aren't showing off your pearly whites very often, you could accidentally be putting off the impression that you are unapproachable and even untrustworthy. This isn't something that you typically want to demonstrate at the workplace. A friendly-looking smile is a great way to start if you want to appear more outgoing. Whiter teeth can also make you look more youthful and more attractive.
Smiling Is Contagious
When choosing new employees, employers generally are looking for someone who can bring a positive light into the workplace. A great smile does nothing but help in this case because it is contagious. If you are frequently showing off a grin, this can rub off on others. This also correlates with having positive traits, like stability and extroversion.
Having a gorgeous smile can make a huge difference when it comes to your career. If you aren't confident about the aesthetic of your teeth, talk to your dentist. Together, you can create a plan so you can work towards the smile of your dreams!
About the Author
After completing his Bachelor of Dental Surgery at the Government Dental College Ahmedabad in Gujarat, Dr. Anil Patel earned his Doctor of Dental Surgery from the University of Southern California School of Dentistry in Los Angeles. Currently, he is a proud Fellow of the International Dental Implant Association (IDIA), and a member of the American Dental Association and the Texas Dental Association. To learn more about cosmetic dentistry or to schedule a consultation at his office in Fort Worth, visit his website or call (817) 717-6788.